HELLO - Welcome!
About me: I'm Cathy Nichols, and I'm an artist, teacher and author of the book Storytelling Art Studio and guide for my two core courses: Create Your Own Oracle Deck and Painting Modern Expressive Flowers.  On January1st, I will also be reopening my club: Joy of Painting.
Here is a little bit about my art:  I aim to capture the sense that nothing is perfect – we have challenges, heartaches, changes, and losses – in our lives, but there is always a way for joy and hope to emerge. Torn fragments of paper from my life and travels form the textured backdrop for
the bright flowers and birds I paint. These fragments are like our memories and experiences, each unique, layered, and filled with stories. When I choose my
colors, I think about the emotions we all feel. The bright hues represent moments of happiness and contentment, while the deeper shades echo the times of
introspection and growth. Together, they come alive on my canvas, symbolizing the reassembling of something once broken to forge new, beautiful growth.
Thank you for joining me here!  xo, Cathy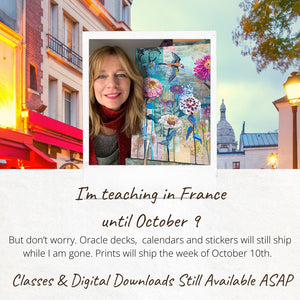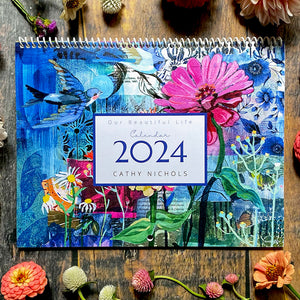 Just Released: "Our Beautiful Life" 2024 Calendar
I've curated 12 of my favorite paintings from the past year to celebrate each month. With every flip of a page, you'll find a blend of vibrant florals, lively birds, and those quiet moments we all cherish.

And the first 100 calendars will be signed!

Buy Calendar Here
Classes to Feed Your Creativity!
Shop Oracle Card Decks & Accessories